A Yoga Workout at Home — In Any Clothes (or none at all 😳) — Is So Good For you!
We all know that working out can be tough. And the hardest part can be just getting the strength to make it to your workout.  That's why it's important to really understand the top benefits of an online yoga workout at home, whether that be a fast paced power yoga workout or slower paced low impact cardio classes (we've got 'em both 🙌).
Achieving your health and fitness goals is a process, and there are lots of ways to get there.
Here are just some of the Benefits of a Yoga Workout at Home
If you've been struggling with obstacles to working out, it may be time to start an at home yoga workout.
Doing online yoga classes at home is a great way to get a yoga workout without dealing with obstacles that can keep you from working out.
These just might convince you to walk away from the gym and into your own living room.
1)  Avoid "Gymtimidation"
Sometimes going to the gym or a yoga class is what keeps you from going to the gym or a yoga class.
When you're faced with other people who have been doing yoga for a long time, it can be intimidating. You may feel like you have to do things a certain way because that's the way other people do it. One of the benefits of an online yoga workout at home is not feeling judged when you're doing your workout.
With no one watching, you can exercise at your own pace, experiment or adapt your workout to be what you want and need. With no "gymtimidation," you'll have a great foundation for achieving your health and fitness goals.
You'll be able to do what you need to for your own health and fitness, knowing no one is nearby and you don't have to worry about people judging you. When you're not worried about other people judging you, you can be in a place to focus entirely on your workout and achieving your goals for a healthy lifestyle.
2)  Make your own yoga schedule
Life can get busy, and when people have a schedule conflict, yoga classes are often the thing that gets pushed aside. And if you cancel a workout, it'll be even easier to cancel the next one.
Before you know it, you'll feel like you're starting all over again!
The Mayo Clinic lays out 5 important steps to follow when starting a new fitness plan with assessing your fitness level as the first step:
"You probably have some idea of how fit you are. But assessing and recording baseline fitness scores can give you benchmarks against which to measure your progress."
Even if you're committed to a regular and rigorous workout routine, it can be hard to fit it into your schedule. One of the benefits of online yoga workouts at home is that you can make your own schedule. You don't have to rearrange things to get to class or worry about running from one thing to the next.
Instead, you can make your own schedule so that it works for you. You won't have to reschedule anything, skip a workout, or get behind on your goals. Instead, you'll have an exercise routine that truly works for you.  And, if you want to create a little extra incentive, you can use a custom workout plan for your at home yoga classes.
Whether you want to work out at six in the morning, two in the afternoon, or ten minutes before midnight, you can do what works so you can get in your yoga workouts.
3)  Have a cost-effective workout plan
Gym memberships can be expensive, and if you don't use it as much as you want to, it may not be worth it for your budget. And, unfortunately, if you have to rework your budget, your gym membership might be one of the things that gets cut.
But make sure you have an outlet to exercises that you enjoy.
According to a new study in the Journal of the American Heart Association:
"On average, exercise may save people between $500 and $2,500 a year."
The study also found that those savings come in the form of medical bills. Yep, people who exercise regularly spend less than non-exercisers at the doctor each year.
Here's the best part: Participants only needed to walk for 30 minutes five days a week to reap the benefits."
Even if you work out at home, you can get caught up in making sure you have the right equipment to keep up with your goals. Doing yoga at home is different.
Not only can you skip the gym membership, but you don't need lots of expensive equipment to make it happen. In fact, all you really need is comfortable clothes and (maybe) a yoga mat. That means you can maintain your exercise routine on a minimal budget so you can keep working toward your health and fitness goals.
Cost shouldn't be an obstacle to your health, and when you work out at home, it doesn't have to be. All you need is a plan and a yoga routine to do at home.
4)  Improve your sleep
Sleep is an important part of good health, but it can be really hard to get the restful sleep you need.
Whether it's because of your schedule or insomnia, you can always feel when you're not sleeping well because you have to get an extra coffee the next day.
Charlene Gamaldo, M.D., Medical Director of Johns Hopkins Center for Sleep at Howard County General Hospital exlains:
"We have solid evidence that exercise does, in fact, help you fall asleep more quickly and improves sleep quality, but there's still some debate as to what time of day you should exercise. I encourage people to listen to their bodies to see how well they sleep in response to when they work out."
If you go long enough without proper sleep, you can even start getting physical effects from it, including depression, anxiety, and being more likely to catch colds or other illnesses. The good news is that one of the health benefits of a yoga workout at home is that regular yoga can have a positive impact on your sleep.
Along with improving your strength and flexibility, yoga helps ease stress and boost relaxation. That means that, at the end of the day, you'll be able to let go of the stresses that are preventing you from getting a good night's sleep.
In fact, doing yoga at the end of the day can help you relax and wind down after a difficult day. Then you can start waking up refreshed, well-rested, and ready to face whatever the day has for you.
5)  Create your own yoga workout playlist
Music adds many benefits to your workout. Music really is brain food, and has other great health benefits as well — check out our YouTube vid with all of the details! 🎶 😃 🎶
The right music can keep you moving at a good pace so that you can do what you need to for your health and fitness goals. But the wrong music can make a workout harder to complete.
When you workout at a gym or in a class, you don't have control over the music – you have to work with whatever is put on for you. But when you workout at home, you have complete control over your playlist.
You can create different playlists based on the type of yoga workout, time of day, or your goal for the routine. You can change your playlist in the middle of your workout to be better for what you need. It may seem like a small thing, but the benefit of the right music can make a big difference in your exercise routine.
Making sure you have a yoga playlist that meets your needs will give you the motivation to keep pushing toward your goals.
6)  Avoid the hassle of arranging child care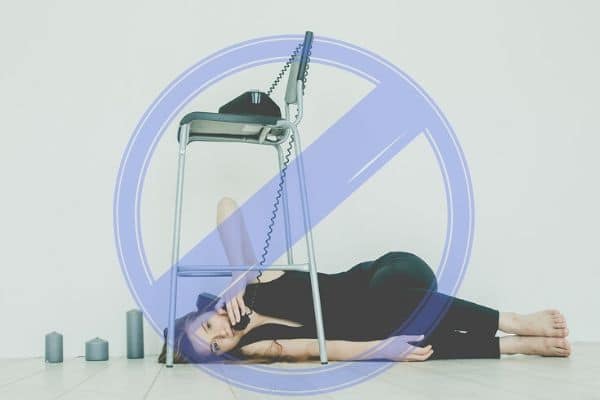 Arranging your schedule to work out is hard enough, and when you have kids, making sure you have child care can just make it more complicated.
Even if you arrange child care, there's no guarantee that it won't fall through at the last minute, leading you to have to cancel your workout plans. And if you can't get child care for the time you have class, you might not get another chance until the next week. One of the benefits of a yoga workout at home is that you don't have to worry about arranging child care. You get to make your own exercise schedule, so you can work out when it's convenient for your family. In fact, yoga is a great exercise program for kids, too.
If your kids are able, ask them to join you for your workout so they get the chance to spend time with you while being physically active.
When kids do yoga, they get all the same benefits you do!
And if you're committed to achieving your health and fitness goals, you should be committed to finding the best exercise routine for your needs.
Unfortunately, working out at a gym can lead to lots of obstacles that can keep you from making the progress you deserve. When you take online yoga classes to work out at home instead, you have all the physical benefits of your regular exercise routine without the obstacles that keep you from doing it.
It's all about achieving your health and fitness goals
By doing yoga at home, you get all the physical benefits of yoga along with the convenience doing it in your own home. You can focus on what you want to achieve in your healthy lifestyle without obstacles that will keep you from your next workout.
And, if you're looking to get the additional benefits that come along with hot yoga 🔥, we've got great tips on how you can do hot yoga from home!
Now, it's Time to Benefit from a Yoga Workout at Home
Commit to achieving your health and fitness goals with the benefits of a yoga workout at home. You just may find it's what you've always been looking for!